Applied Motion gets UL tag for 2020
Applied Motion Products, the Watsonville, Calif., manufacturer, gained increased acceptance of its MDX integrated servo motors into industrial motion control applications in 2020, with UL recognition on all models. This certification assures users in the U.S. and Canada that these motors meet high-quality standards for electrical safety.
The integrated motors were evaluated according to ANSI/UL standards 1004-1 Rotating Electrical Machines, 1004-6 Servo and Stepper Motors, and 61800-5-1 Adjustable Speed Drives. The certifications are noted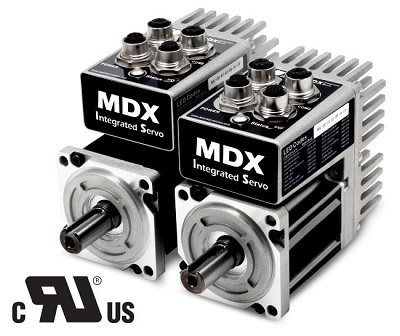 Source: Applied Motion Productsunder UL file number E472271.
The MDX integrated servos are said to combine high torque density, low inertia servo motor with an on-board drive and controller. The all-in-one design "saves on space, wiring and cost over conventional servo systems with separate motor and drive components," per a company press release July 10. "With MDX there are no cables required to connect the servo drive to the motor because the servo drive is integrated into the motor housing. These factors contribute to the reduction in size of control cabinets and easier installation of servo axes in machinery and equipment."
Multiple communication options include Ethernet, RS-485 and CANopen. Ethernet models support EtherNet/IP and Modbus industrial networking protocols. CANopen models adhere to the motion profiles defined in the CiA 402 standard. All models feature dual-port communications for daisy-chain network connections.
All MDX motors feature stored program execution. Stored programs are created using Applied Motion's Q Programming language, a language for generating various kinds of motion, I/O control, and machine sequencing, as well as math functions that enable users to create complex motion profiles and control algorithms. Two environmental ratings are available on the MDX motors, including IP65 and IP20. The most popular IP65 rated motors include M12 connectors for all connection points. IP20 rated motors feature pluggable connectors that save cost in high-volume, price-sensitive applications.